Fire consumes everything in its path. Many people have an unending fear of the open flame. But, it is such a big part of our daily lives. However, if this man had any fear, he put it aside, because when a mother's shack caught fire, one man ran into the flames to save her children. He was rendered with life-altering wounds that would take some time to heal.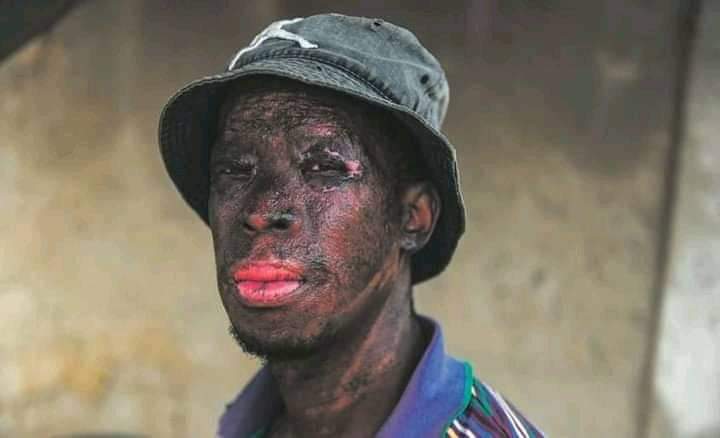 He heard a woman screaming
In the fall of 2020, Zikhaya Sithole, a 38-year-old South African local performed a remarkable act of bravery. He was walking home from a local grocery store with a friend one day. When all of a sudden they heard the terrifying sound of a woman's screams. The two men ran towards the sound to see what was happening. They were met with an intense sight. A woman was standing before her shack which was emblazoned with flames. She was screaming desperately for someone to help.
The men ran over to the screaming woman, and she screamed that her children were still inside the shack. Zikhaya knew exactly what he needed to do. He knew he couldn't leave the children to burn to death. So, he used his hat to shield his face and he ran into the scorching hot flames. "That's when I pulled my hat over my face and ran into the flames," Zikhaya told the Daily Sun.
Zikhaya chose to put his own life at risk to save the children. Not many people can say they would do the same. But, it seems that Zikhaya has a natural hero instinct.
Read: State trooper fighting against darkness finds missing 2-yr-old that clutches onto him & won't let go
He managed to save one child
The mother was screaming desperately for her two children. They were left inside her shack which had caught alight and she feared their lives. Zikhaya did not know her, but he risked everything to save them. Zikhaya spoke of what happened when he got inside the burning shack. He so badly wanted to save both children, but it was too late. One of the children was consumed by the flames, and he could only save one.
"When I got inside the shack, I heard the children crying. I grabbed the child who was on the bed and ran out, but when I wanted to go back for the other one, the flames were too strong," he said.
Zikhaya suffered great injuries
As a result of his brave actions, one child lives to see their future. If Zikhaya had not been there, both the mother's children would be lost. Unfortunately, Zikhaya only realized that he was severely burnt when he got home. No doubt, the adrenaline in his system numbed the pain.
Despite the injuries, Zikhaya said: "I never regretted entering the shack. I have saved a child. I wish I could have saved them both."
As he got home, Zikhaya's partner, Mapaseka Monareng, could not hide her surprise. He was badly burnt and she had to help him get his clothes off. While she did that, she called his family to tell them what had happened, as well as the paramedics. She said: "I am proud of him for what he did."
Zikhaya was nominated to receive a reward for his bravery
The president of the South African Covenant, Dr. Convy Baloyi, said: "We live in a world where men are said to be trash, but Zikhaya braved the flames to save kids. We will journey with him through his healing process. We don't have much to offer, but we'll work with him."
Zikhaya's community has been working tirelessly to nominate him for a Mendi Decoration for Bravery award. This is an award given only to the bravest of people, who put their lives at risk to save others. They want the South African president, Cyril Ramaphosa, to give it to him. Additionally, a fundraiser has been set up in Zikhaya's honor. And, luckily, the donations have been coming in. It is to help him heal, and get him back on his feet again.
Zikhaya has set an example for bravery. He has shown how a community can be there for each other, even between strangers.